Frequently Asked Questions About PennBid
It is common to have a variety of questions about a new product or service. Curious about PennBid's experience and comprehensive approach to the bidding process? Below you will find answers to many of the most common questions. If you don't see your question below, please contact our office and one of our representatives will be happy to discuss it with you.
Is PennBid only available in Pennsylvania?
Yes. The PennBid platform can be used by Public Agencies, A&E Firms. Colleges, and School Districts for construction, professional services, and commodity purchases throughout the Commonwealth of Pennsylvania.
Can PennBid be used for Private or Invitation-Only bids?
Yes. With one mouse click your solicitation can be changed from Public, to Private, or Invitation Only.
Can the Program be used for multi-prime projects or bids with alternates?
Yes, this scenario is very common for construction projects. Projects can be set up with one or more primes and every project can include add/deduct items where necessary.
Does the Program complete the math for the bidders?
Yes — for line items bids, bidders enter their per unit cost and the system automatically calculates their line extension totals and creates an exportable bid tabulation.
Can an "Incomplete Bid" be submitted?
No — Bidders MUST provide cost information and respond to agencies' acknowledgments prior to bid submission.
Can awards be divided between multiple vendors?
Yes — Line item and lump sum bids can be split and awarded to multiple vendors.
When are bid results displayed?
The agency manager determines when and what information is displayed after bid closing. Bid results can be posted within the Public Notices section of the platform.
How is addenda acknowledged and tracked?
Addenda notifications can be sent through the Public Notices area. the project owner can attach the addenda document(s) and send notifications of addenda to all bidders who have shown interest in the solicitation.
How is addenda managed?
Addenda is posted within the Documents tab of the solicitation. All potential bidders/planholders can be notified with a message that contains a direct link to the project documents.
How are questions communicated with bidders?
Vendors submit their questions through the Vendor Discussion area of the platform. Project owners have the ability to respond directly to the bidder.
Do I need to monitor PennBid to know when a question is asked?
No — When a bidder asks a question, the project manager receives an email notification.
If I use PennBid for a private bid, can other bidders see the solicitation?
No — Only invited bidders have awareness of or access to private solicitations.
Can bidders share documents?
Yes — bidders can download documents and send them to coworkers, subcontractors, and suppliers.
What documents are available to bidders?
All posted Bid Documents, such as specifications, bid forms, pre-qualifications, and plans are available to the vendors, contractors, and subs.
How long does it take to post a solicitation?
Depending on the schedule of prices, optional/mandatory events, how many primes, etc., a proposal or solicitation can be posted in 10 – 30 minutes.
Can events such as a pre-bid meetings be scheduled using PennBid?
Yes — Pre-bid meetings, site walks, virtual conferences and any other event or meeting can be scheduled in a matter of seconds within the Manage Events area. This information, including whether the event is mandatory or optional, will appear on the first screen that the potential bidders see.
What do vendors / bidders think of electronic bidding?
The bidding community is very supportive as there are many benefits from their perspective. The ability to have access to all documents without wasting time driving, having to purchase plans and specs, being automatically notified of opportunities that match their products and services, receiving addenda instantly, and being able to update bids multiple times are all valuable, resulting in better pricing for the agency.
Do we need to make IT changes?
No — PennBid is a "hosted service." No changes or additions are needed for either the posting manager or bidding community. All that is required is a connection to the internet. Some domains should be "whitelisted" to ensure all email communications are received.
How does PennBid help with communication?
Regardless of the number of bidders interested in a solicitation, communication with all takes just one mouse click. PennBid allows project owners to send individual messaging directly from agency to bidders/planholders to answer questions and issue addenda. This eliminates the need to look up names, obtain email addresses and fax numbers, or call to verify addenda receipt.
How much does the PennBid Program cost?
PennBid is provided at absolutely no cost to public agencies, private firms, and vendors. Only vendors who are awarded contracts are assessed a modest, capped fee of 1/3% for fixed fee contracts or 1/6% of contract value (+ tax) for term contracts. There is a minimum award fee of $100 and a maximum of $5,000.
What is the expected savings using PennBid?
Overall time and cost is reduced by 80% compared to paper solicitations. Typically agencies save around 3-6% of total bid value.
What types of proposals can be competitively bid using PennBid?
Any solicitation and request-for-proposal, ranging from multi-prime construction projects and equipment rental to office supplies and professional services.
Can all departments within our Agency use PennBid?
Yes — PennBid can be used for any request-for-quotation or request-for-proposal, regardless of department. The same system can be used by Public Works, Engineering, Public Safety, Authorities, Admins., Township, Counties, School Systems, etc.
Does an Agency manage their own bids?
Absolutely! Each agency is provided access to set-up and manage their solicitation(s) individually.
How will my agency benefit from PennBid?
PennBid was originally designed through the collaborative efforts of a consortium of Pennsylvania municipal agencies and Authorities to streamline and significantly reduce the cost of procurement and bid solicitations. The program is a secure internet-based system for managing many aspects of the procurement process, specifically document distribution, notification and communications with vendors/bidders, addenda management, receipt and tabulation of bids and awarding of contracts.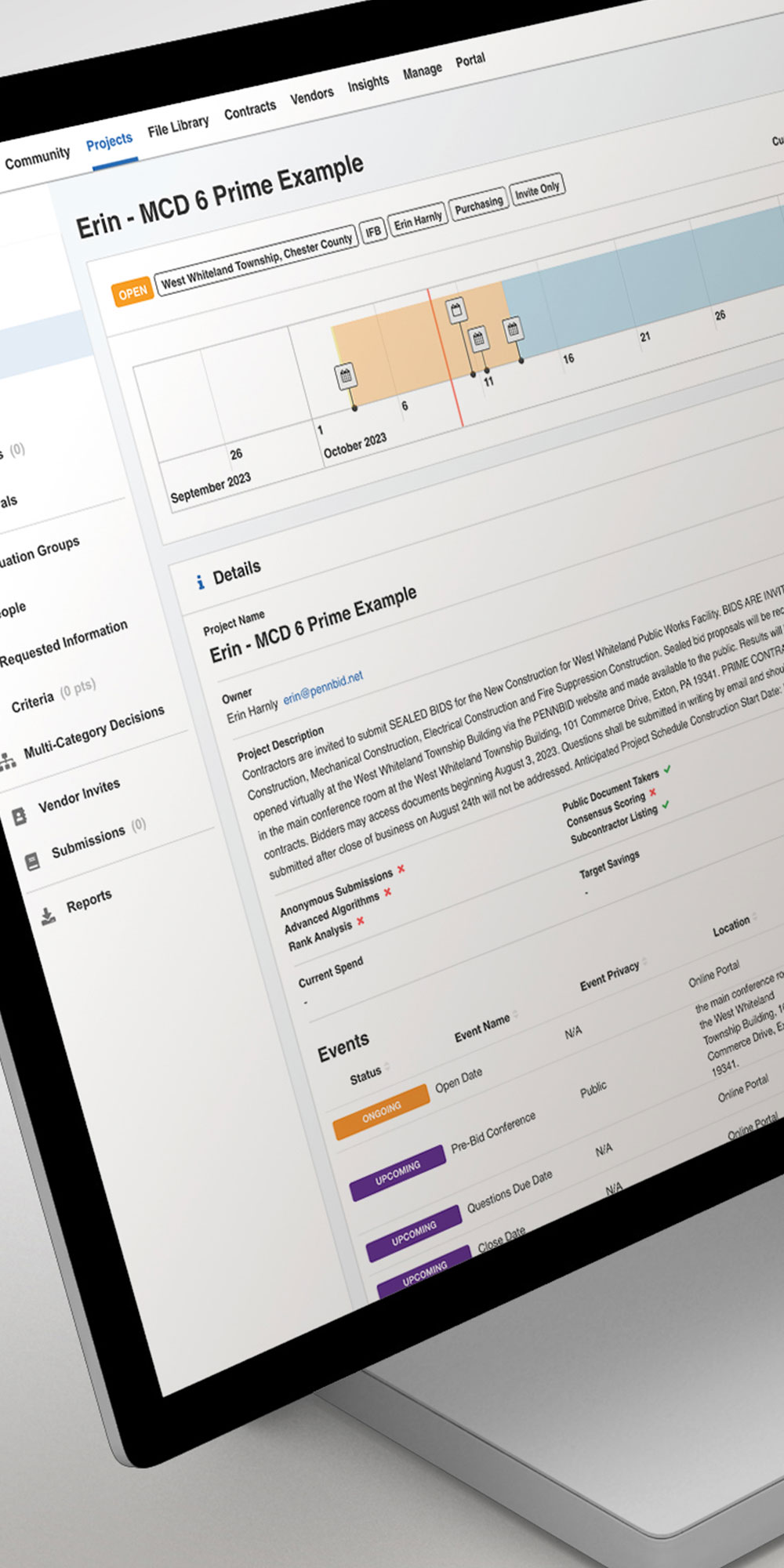 PennBid saves time, money, aggravation, gray hair, and trees. Any public agency that bids projects the "old" way does not know what they are missing.
– BCM Engineering
PennBid simplifies & expedites the bidding process, and aggravation with answering bidders' questions and issuing addenda is greatly reduced. Our clients love PennBid because it saves them money.
– McCormick Taylor, Inc.
From an owner's perspective, PennBid adds immense value: Speed, security of bids or proposals, immediate notifications or addenda, complex project awarding – all done with just a couple mouse clicks. You guys have literally thought of everything!
– City of Williamsport
PennBid makes bidding projects easy! Not only does it save time and money, but it also maximizes exposure to potential bidders and maintains records of all bid-related activity for you.
– Entech Engineering
Just wanted to say that I am very impressed with the capabilities of PennBid. We've had an amazing response. My sincere thanks.
– Tinicum Township
PennBid has streamlined the entire bidding process into a user-friendly platform with an unbelievable staff that are always willing to assist.
– KLH Engineers, Inc.
Very smooth. I keep thinking I must be forgetting something, because of the absence of contractor & vendor calls, no project log to update, bid form math to tabulate, etc. Very great!
– Herbert, Rowland, & Grubic, Inc.
Carroll Engineering Corporation (CEC) has been utilizing PennBid since 2010 and has been well received by our clients. PennBid represented a major improvement to the bidding landscape by increasing project awareness and by facilitating communications during the bid process.
– Carroll Engineering Corp.
PennBid streamlines the bidding process for our clients' capital projects allowing us to provide timely communications to clients & bidders through simultaneous notifications, helping us deliver efficient service to better manage the bidding process.
– RETTEW
We efficiently distributed documents electronically, easily responded to questions, and managed addenda. We look forward to introducing the Program to other clients.
– Pennoni Associates
PennBid' s customer service is astounding!
– City of Williamsport
Thank you for the little tweaks, fixes and add ons when I have a new item on PennBid! Much appreciated, and I notice them! It helps me remember to do them, next go-around.
– City of Williamsport
PennBid is saving us, our bidders, and most importantly, our clients a great deal of time and money.
– Andersen Engineering
The work is done in a matter of minutes instead of days. All I can say is THANK YOU!
– Reading Area Community College
Using PennBid allows T&M and our clients to save precious time and money. When coupled with its ability to streamline communications, stable platform, and ease of use, PennBid is a real "win-win" for everyone.
– T&M Associates
PennBid is a win-win for all parties, saving us and our clients time and money.
– RETTEW