The Power of E-Procurement
A Guide to Saving Time and Money with Every Purchase.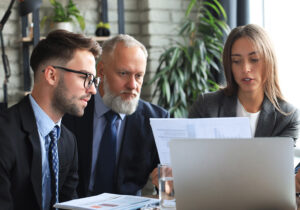 Townships that are still using manual procurement methods for all their purchasing may want to step out on a limb and try e-procurement. This electronic way of managing bids and other aspects of purchasing can save your township time and money and help you maintain that all-important audit trail.
Many townships today are incorporating technology into their daily routines. Some municipalities, however, are reluctant to apply technology to the public bidding process.
While it's very easy to "do what we've always done," those interested in saving money can benefit from the numerous advances in e-procurement systems.
In simple terms, e-procurement, also known as electronic procurement, electronic bid management, and paperless bidding, automates an organization's procurement process using web-based applications. Some fear that e-procurement will change what they do, when in fact it only changes how they do it.
Independent studies have found that the average cost of the bid management phase of construction projects ranges from 3- to 6-percent of total project costs. This easily adds up to thousands of dollars spent following a process that literally adds no more value to your project. Streamlining your purchasing/ bidding/contract management process by incorporating e-procurement is "low-hanging fruit" that will yield quick, quantifiable, and repeatable savings.
E-procurement may not eliminate all costs during bidding; however, numerous reports have shown savings of 2 to 5 percent of total project costs. The compounding effect, when applied across the board to all purchasing, generates real savings that cannot and should not be ignored.
Creatures of Habit
There is no escaping the fact that those who serve in the public sector are creatures of habit, a characteristic that is essential when working with processes that require consistency and attention to detail. Despite being good at their job and unwavering in their commitment to their municipality, it can be challenging for public officials and staff to adopt change.
However, the paper-based "bidding" method that public agencies have been following is based on antiquated language and processes that are time-consuming and resource-intense and do not take advantage of today's technological capabilities. Yet, when presented with a solution that essentially automates a manual process that's been used for decades, some people are hesitant.
Pennsylvania townships come in all shapes and sizes, ranging from affluent, resource-rich communities surrounding larger metropolitan areas to very rural townships, where only a handful of dedicated people are responsible for everything. This diversity means there are numerous approaches to similar daily tasks.
Some cost-conscious township leaders may believe that e-procurement requires an investment that won't return enough savings. However, many townships, urban and rural, large and small, have found that moving away from paper-based bid management to the efficiencies of e-procurement is valuable.
Damascus Township in Wayne County previously thought it was too small to benefit from e-procurement. With a population of just under 3,500, about 80 square miles of land area, and 98 miles of roads (many dirt and gravel), Damascus is a typical rural township. One of the supervisors, however, was exposed to e-procurement as the owner of a construction company.
Seeing firsthand how easy it was for bidders to use the system, he raised the subject with his fellow elected officials. After watching a demo, they were quickly on board and excited to see how the township would fare. Despite having no prior e-procurement experience and limited computer knowledge, they had their first projects "going live" in a very short time.
All it took was a couple of hours of training to learn the new system. Upon the completion of their first bid, they noticed a significant reduction in staff time required for bid management and more competitive pricing in the bids received. This experience, along with several other successful projects in recent months, has validated the supervisors' initial belief, and the township has committed to using e-procurement for all future purchasing and bidding.
Evolving Process
Thanks to developments in methodology and the advancement of technology, the procurement process has evolved. It is no longer simply about cost management but includes other key factors such as risk management, sustainability, consistency, standardization, centralization, and return on investment (ROI).
Whether your township has a centralized purchasing approach, where all procurement happens at a single point in the municipality, or a decentralized approach, where each department or project manager handles his own procurement needs, e-procurement technology can strengthen your township's purchasing practices in several ways by:
promoting the sharing of data across all departments;
offering greater speed, accuracy, and transparency during the procurement process;
reducing design firm costs;
increasing visibility and access to data and information;
deepening bidder pools;
improving budget estimation and bid evaluation through access to historical costs; and
producing a solid audit trail.
E-procurement has come a long way since it first made the scene in the 1990s. Studies have shown that the early adopters of the technology — Wal-Mart, Ford, General Motors, and a handful of other predominantly large, private companies — experienced a 5 to 20 percent reduction in purchasing/ acquisition process costs. Fast-forward a quarter century, and the technology has become faster and cheaper and is now used in both private and public sectors. The Purchasing and Procurement Center cites a 2014 Aberdeen Group study that found organizations with e-procurement experienced:
a 64-percent reduction in contract development costs;
a 7.3-percent reduction in prices submitted; and
a 58-percent reduction in requisition-to-order costs.
With evolutions in technology, increased benefits, and measurable savings, many townships are finding the shift to e-procurement easy. Also, in scenarios where they have delegated the task of bid management to their design consultants, many municipalities are asking, and sometimes requiring, their consultants to make the switch for their projects.
Mapping Your Path to Success
While the notion of migrating from paper to electronic may seem like a daunting task, breaking down the bid management process into its core elements serves two important goals. First, it helps explain the capabilities and benefits of an e-procurement program. Second, and more important, it develops a needs assessment tool that can help you decide what features offer the greatest value to your township. Chances are, regardless of your preferences and priorities, a solid e-procurement platform will be able to accommodate a wide range of choices.
The bid management process includes the following fundamental management areas: e-procurement costs and system administration, vendor management, document management, communication, and notification, receiving bids and submissions, confidentiality and transparency, and record keeping and audit readiness.
1) E-Procurement Costs and System Administration
The cost of implementation has historically been one of the primary concerns of adopting new technologies. From computer infrastructure and servers to complex legacy software and training, it can be difficult to justify these expenditures. However, with the advent of cloud computing, web-based applications, and mobile technology, access to e-procurement solutions is as easy as accessing the internet.
Here are some considerations that your township should assess when looking at an e-procurement platform:
Is it web-based or does it require software installation?
Are there any initial/recurring costs, such as fees or subscriptions?
If it's web-based, will the township be exposed to unwanted marketing?
Are there limits on how many licensees or users can access the system?
How involved is the training and what are the costs?
What type of ongoing support is available?
Do we want a stand-alone system, which typically offers greater customization at a higher cost, or a programmatic system, which offers standardization among common users at reduced costs?
Can the system accommodate multiple departments/locations?
Since the advent of public-sector e-procurement in Pennsylvania, some programmatic systems are available to townships and other public agencies and design firms at no cost. Knowing the basic structure of the program you are considering will go a long way toward making sure that it is the best fit for your e-procurement needs.
2) Vendor Management
Because bidders and vendors are key players in the success of any e-procurement program, your township should consider the following:
Is it important for bidders to be able to identify the products and services they offer or the territory they cover?
Should they be able to register themselves or be managed by the township?
Do you require W-9's, insurance, contractor licensing, or other similar documents to be submitted as part of registration?
Are there initial access or subscription fees for bidders?
Increased participation from bidders helps to drive both competitive pricing and the level of attentiveness that bidders place in their deliverables. The two cost factors that bidders consider when deciding to participate in the bidding process are the cost of entry and the cost of completing the job.
The cost of entry typically entails purchasing bidding documents, such as plans and specifications, that have
been made available. Only after bidding documents have been purchased can prospective bidders truly understand the project cost through completion.
Because some e-procurement platforms and programs can dramatically minimize or eliminate the cost of entry for bidders, the result is usually greater participation and more competitive pricing.
Understanding how bidders interface with your procurement process will reduce unexpected resistance or issues. E-procurement affords serious efficiencies to bidders as well and can be a great tool to promote supply chain relationship management. Having a good working relationship with vendors is important in many areas and offers numerous benefits for budgeting, evaluation of alternative products and methods, product specifications, and resource timing.
Because most vendors understand that there are very few instances in which products or services can be sole sourced, providing clear expectations and open communication and being respectful of their time and energy are the best ways to ensure their active engagement and participation when submitting bids or implementing a project.
3) Document Management
Electronic document management, such as FTP sites, is often mistaken for e-procurement. Making bidding documents such as plans, specifications, forms, and other information electronically available to potential bidders is only one of the many benefits of a true e-procurement program. However, some feel that the notion of going "paperless" is impractical in an industry where records need to be maintained, but some e-procurement programs maintain detailed accounts of the procurement process.
Elements to consider when evaluating the document management capabilities of an e-procurement program should include:
Is the architecture open or proprietary?
How are documents organized, and can templates be customized?
Are there limitations to the size and/or types of files that can be uploaded?
How easy is it to upload files?
Will it operate across all web browsers?
Can the system track who uploaded and/or downloaded files?
4) Communication and Notification
From the initial invitation-to-bid through addenda notification and contract award, an e-procurement program can positively and dramatically affect the speed, efficiency, and consistency of communication with potential bidders.
An easy example is notifying potential bidders of an addendum or change. With paper-based bid management, this can be a long and, at times, costly process. For most e-procurement systems, addenda notification takes just a few mouse clicks.
When evaluating an e-procurement system's communication functions, here are key elements to consider:
Can it supplement my advertising with broadcast notifications to a wider audience?
Will it allow me to tailor my communication to all or just select bidders as necessary?
Does it allow for templates to standardize the most common communication?
Will it track communication activities, such as verifiable delivery of addenda notification?
Sound e-procurement programs can provide all these features to promote the highest level of communication with your bidding community.
5) Receiving Bids and Submissions
First and foremost, any e-procurement system that your township is considering must establish and maintain sealed bid confidentiality until the bid due date and time have passed. This requirement is the very cornerstone of Pennsylvania's procurement codes.
Traditionally, the development of bid or proposal forms has been approached from varying sides of the spectrum. There are those who want project pricing to be broken into many individual line items so specific details can be reviewed when bids are received. Then there are those who only want single, lump-sum prices for an entire project because the bottom line is, well, the bottom line. And there are many variations in the middle, where townships are constantly trying to balance the value and cost of their projects.
No matter the approach, one common issue doesn't change: Reviewing the details can be very time-consuming, especially if bidders do not submit their information in a manner consistent with what has been asked. E-procurement provides a bridge between these two ideologies so that municipal agencies can have the best of both worlds.
Townships can have more details within the bid form but spend less time reviewing and comparing the received bids. This comparative analysis can be greatly enhanced by e-procurement.
Here are some of the many elements to consider when receiving bids and proposals:
Can the bid forms be standardized so that all submissions are identical, thus allowing better side-by-side comparisons?
Will this e-procurement system accommodate all types of solicitations (RFPs, RFQs, RFIs, multi-prime contracts)?
Can this system facilitate both public and, where appropriate, "By Invitation Only" private solicitations?
Will the program allow for different pricing schemes, such as base bids, alternates, adders/deducts, and unit prices?
Will the e-procurement platform being considered promote both complete and accurate sealed bid submissions by calculating the arithmetic for bidders or preventing the submission of an incomplete bid form?
Are there functions that allow previous solicitations to be copied so that repetitive or seasonal bids need not be developed from scratch?
Does the e-procurement system automatically tabulate the bid results?
Can bidders electronically submit supporting documents such as bid bonds and non-collusion affidavits?
Can bid results be made visible to the public electronically?
Regardless of preference, there is an e-procurement program available that will meet all your township's needs for every type of project and solicitation.
6) Confidentiality and Transparency
It is easy to understand why townships are cautious about changing their approach to bid management. Due to the sensitive and conservative nature of public bidding, any e-procurement systems being considered must enhance the transparency, security, and integrity of the sealed bid process while promoting greater bidder inclusion.
Several features/functions should be considered:
Does the system provider have a history in the e-procurement realm, and does it comply with industry best practices?
Is the system availability and functionality monitored and measured?
Is the data secure and backed up appropriately?
How often are upgrades offered?
Does the system record and maintain actions taken by bidders and others who are using the system?
7) Records and Audit Readiness
There are several variations of the ancient Latin proverb "Errare humanum est," or "To err is human." With e-procurement, many of the record keeping and tracking functions become automated, thus minimizing opportunities for human error. This automation offers townships more time to focus on solicitation elements that require critical thinking and evaluation.
Several fundamentals to explore when considering the record keeping capabilities of an e-procurement system include:
How long does the system maintain records and transactional logs for each solicitation?
Can records and/or data be exported from the system?
Does the e-procurement system retain date/time-stamped records of various actions?
Making the Change
As noted earlier, townships and other public agencies are rarely eager to be early adopters of new technologies — and rightfully so. They will, however, gladly adopt business tools that have been tried and tested.
It's been nearly a decade since the procurement codes in Pennsylvania have been updated to allow the use of e-procurement tools in the public sector. Since that time, more than 500 Pennsylvania public agencies and their design firms have migrated to using e-procurement — with resounding success.
Often, municipalities regret not having switched over sooner once they experience firsthand the time and money saved with e-procurement. Virtually any township or public agency, regardless of demographics, management structure, or other characteristics, can benefit from e-procurement provided they have the desire and willingness to make the change.